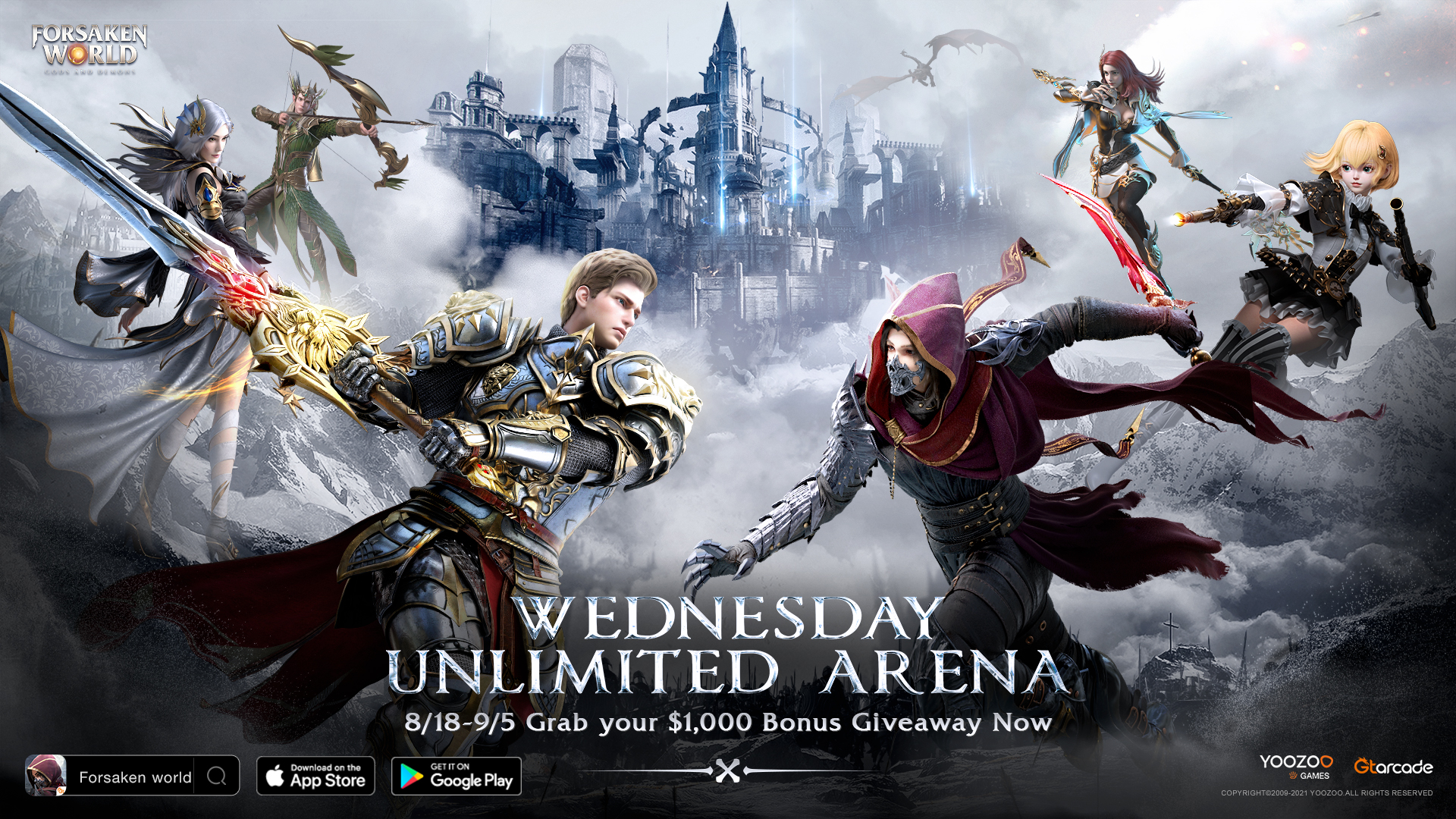 Dear heroes,
Wednesday UnlimitedArena event starts from 8/18 to 9/5. Join the event to Grab your $1,000 Bonus Giveaway Now!
[Activity Introduction]
1. Participate in Conquest and make a video to introduce, show your strategy, or share tips on our new PVP mode: Conquest. Conquest opens every Wednesday 8:30pm (in-game server time).
2. If you are not able to participate in Conquest, videos of any other PVP mode also works, such as Clash of Lords, Frostwind Vale Battlefield, Guild Race, Guild War, Territory War and 3v3 Strength Is King. Please identify the mode in the description.
3. Each video must be last longer than 5 mins, and at least 80% of the content needs to be gameplay of Forsaken World: Gods and Demons.
4. To guarantee the fairness of this activity, videos that were published earlier than August 18th, 2021 cannot be considered as a qualified submission.
[Schedule Announcement]
Activity Period: August 18th - September 5th 2021
View count cutoff: September 5th 2021
Announcement: September 9th 2021
[Participation]
1. Please upload your work on YouTube or Facebook. To make sure this activity is fair to every participant, videos need to be public to everyone.
2. Leave your server ID and player ID in the description. You may leave them as watermark on your work.
3. Please include #ForsakenWorldGodsAndDemons and #WednesdayUnlimitedArena in the description.
4. After finishing above steps, please send an email to ForsakenWorld_GAD@gtarcade.com with a link of your work, server ID, character name and player ID info. The confirmation response will be sent after we review your work. You are not deemed to participate in this event until you receive the confirmation email.
5. If you have any question about this event, please don't hesitate to contact us via ForsakenWorld_GAD@gtarcade.com or Facebook.
[Awards]
Every player of Forsaken World: Gods and Demons is welcomed to participate in this event and every participant has the chance of winning awards with a value of over $1,000. The event includes 3 categories awards: participation award, video view award, and $500 Amazon gift cards.
1. Participation Award: Every participant (individual user ID) will receive Grade 1 Enhance Stone * 10 and Bound Soul Crystals * 100 for the first submission of their work.
2. Video View Award: Based on the number of video views, players will be rewarded with different levels of game items. Awards include game items with limited access and cost efficient products. Details are listed hereunder:

Videos that have more than 20,000 views will be awarded with amazing reward packs, which value is more than $500 such as the Wargod's Roar pack. If players have multiple submission of works, the highest number of views for a single video will be used for the view count reward.
3. $500 Amazon Gift Card Award: Participants whose videos has more than 20,000 views, the number of which ranks in top 3 among all participants in each of the US, EU and SEA servers, will receive one $500 Amazon gift card. Besides, We'll randomly select a lucky participant to give away one $500 Amazon gift card. videos has more than 20,000 views. (NOTE: The participation, video view and $500 Amazon gift card rewards can be awarded to the same participant. However, each participant is entitled to only one $500 Amazon gift card only).
[Prize Distribution]
1. Prizes for participation and video view awards will be delivered to players' game account within 10 business days after the date of announcement.
2. We will contact players who win a $500 Amazon gift card within 10 business days after the date of announcement via provided emails. Players will need to sign the winning statement and provide legal identification information for identity verification only. If a email with a signed disclaimer and individual information is not received within 20 days after the announcement, the winner is deemed to waive the right of the award. In that case, such award shall become void.
3. We will not be responsible for the invalidation or failure of receiving the Amazon gift card due to participants' personal reasons.
[Activity Notes]
1. We are not liable for any awards given to wrong person with incorrect or invalid information.
2. Please list the server ID, character name and user ID in the description of your work. Multiple submissions of the same link are not accepted.
3. If a participant has multiple submissions, the highest number of views for a single submission will be used as the submission.
4. Works with poor quality, obvious suspected of fraud or unfair participation will be disqualified for the event.
5. Please submit your original work(s) to participate in this event. All participants are responsible for the non-infringement and non-violation of their works. Participants need to ensure that the submitted works do not involve plagiarism or infringement. Once plagiarism or infringement is involved, we have the right to cancel the participant's qualification. In addition, he/she shall also bear relevant legal responsibility.
6. The works that participate in the event may not contain infringement or contents that violate public order or good customs. Or else, such work will be disqualified from the event and the participant shall bear relevant legal responsibility.
7. We are entitled to selecting good works from this event and use them for online and offline advertising of the game; the participant who submits such work will be identified as the creator of the work at any time.
Download Forsaken World: Gods and Demons on iOS and Android here. Stay up to date with all the latest on Facebook, Instagram and GTarcade.
* * * * * * * * * *
About YOOZOO Games
YOOZOO Games is a global entertainment company specializing in game development and distribution. The company is headquartered in Shanghai with offices across Asia, Europe, and the US. Since its founding in 2009, YOOZOO has forged a strong global distribution network and launched over 40 highly successful titles including Game of Thrones Winter is Coming, the League of Angels series and Saint Seiya Awakening: Knights of the Zodiac.